In this article
Table of contents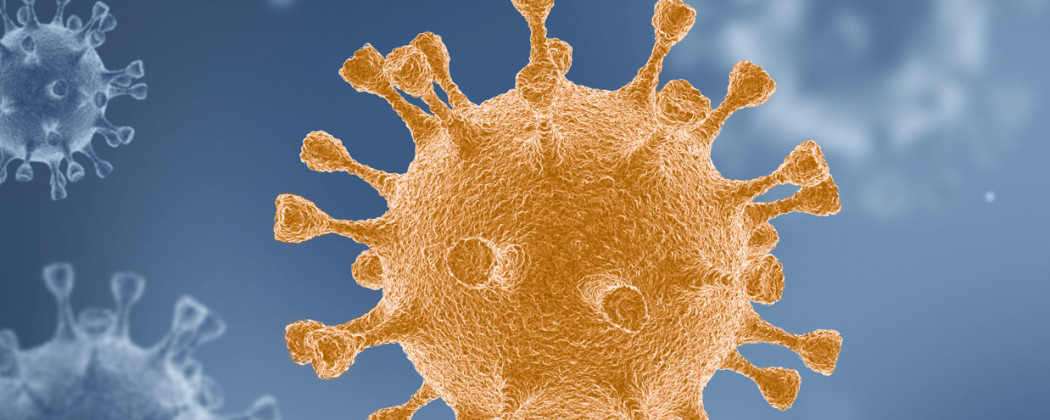 When are which covid-19 tests possible? When can you see which antibodies?
At what point after the first symptoms of illness from
COVID-19
or even before is it best to use what test?
It is becoming increasingly clear how the virus behaves and when in which way the infection is detectable.
One survey provides this picture: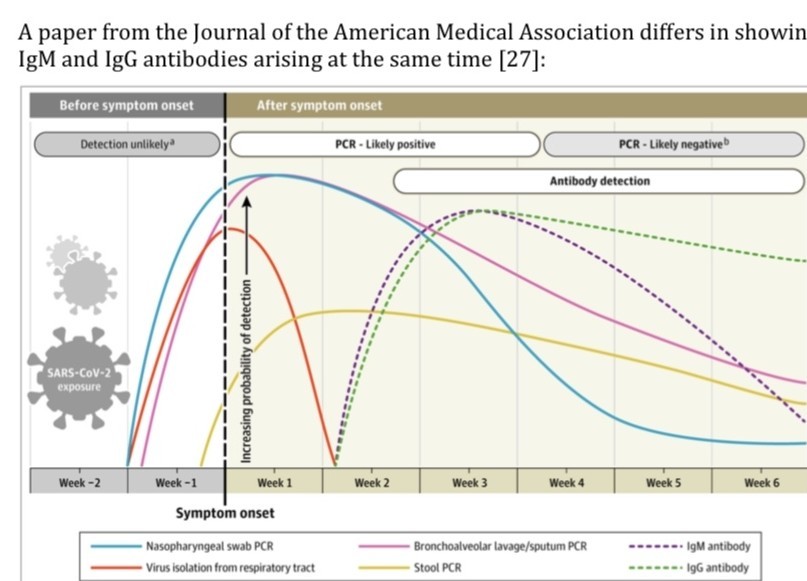 Infection occurs in the first two weeks before the first symptoms of illness.
From 1 week before the first symptoms of illness, the virus is detectable via a throat/nose swab PCR test.
A few days before the first symptoms of illness, the virus is already detectable in the stool and there it remains visible for a very long time.
The virus in in saliva a little later detectable than through the throat-nose mucus, but also remains longer detectable through this route.
While in the nasal and throat mucus it is almost undetectable after only 3 weeks to 4 weeks.
The IgM and IgG antibodies show up almost equally in SARS-CoV-2, but the IgG antibodies remain visible much longer.
Up to this point, there is no end date to be given when the IgG antibodies to SARS-CoV-2 disappear because the disease has not been around for that long.
With SARS-CoV-1 this was 3 to 5 years. What having IgG antibodies says about immunity and whether disappearing antibodies means you are no longer immune is not yet known.
More and more is becoming known about antibodies to SARS-CoV-2.
Studies indicate when which types of antibodies are visible over time.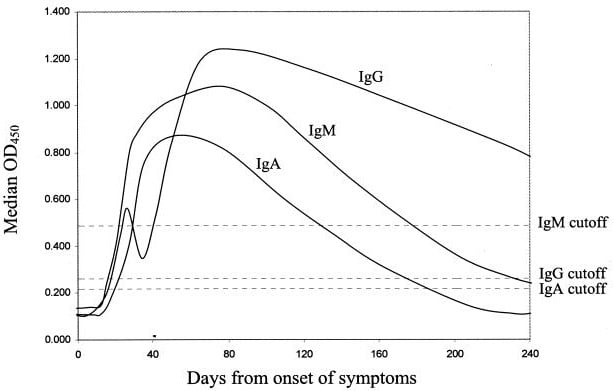 This graph shows how many days after the first symptoms of illness the IGM, IgA and IgG become apparent.
First, the IgM antibodies appear,
Then the IgA antibodies
and only later the IgG antibodies, but they do stay on the longest.
The study below indicates that the immune system starts producing IgM antibodies about 10 days after infection and that IgG antibodies emerge after 14 days.